In Windows XP
Step1
Press ctrl at the bottem left corner.
Step2
Press the "Prnt Scrn" button.(On the page that you want to take a screenshot of.)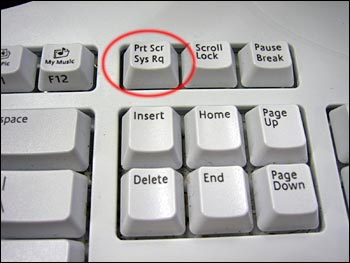 Step3
Open Microsoft Paint. To do this, click Start > All Programs > Accessories > Paint. Click inside the white part of the screen.
Step4
Go to the Edit menu and click Paste or you can press and hold "Ctrl" and tap V. Then you may crop if you like.
Step5
Click File > Save As. In the box that pops up, change the "Save As Type" to PNG or JPG. Type in a filename for your image. Choose a place to save, like the Desktop, and click save.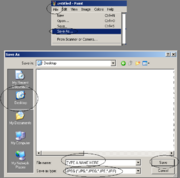 Tips
/[left]
[center]# If you want to take screenshot of just the active window (usually the one that's in front of all the others and activated), press "Alt - Print Screen". This means, you should hold down the Alt key and then press the Print Screen key.
# A quicker way of accessing Microsoft Paint can be achieved by pressing the Windows key (Between "Ctrl" and "Alt" on many keyboards") and "R", then typing 'mspaint' in the box that appears.
# Many laptops, to conserve keyboard space, have mapped the "PrtSc" key as a primary or secondary function on a shared key. To take a screenshot with "PrtSc" mapped to a key as a secondary function, you will need to locate your notebook's function key (usually labeled "Fn" and located along the bottom row) and engage it before touching "PrtSc."
# Depending on your version of Windows, Paint will allow you to save the screenshot in different formats.
* BMP is the default option (a lossless uncompressed format)
* PNG is a lossless compressed format which also supports transparency
* JPEG is a lossy, compressed image format, specifically developed for photographic images. For these images, it allows for the smallest file size with a good quality.
* GIF just supports a limited number of colors. This format is outdated and shouldn't be used anymore.
[b]All credit goes to
wikihow
Last edited by skeletorbx on Thu Jul 15, 2010 7:54 pm; edited 1 time in total



Posts

: 26


Join date

: 2010-07-14



Guys there is not really a need for posting: Very Nice.
Just give him reputation. This should be locked because it is
just a guide. Skeletorbx, please give credit to the people who actually wrote this thread.

/Locked.
Admin







Posts

: 64


Join date

: 2010-06-27


Age

: 25




---
Permissions in this forum:
You
cannot
reply to topics in this forum